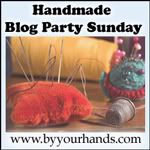 Blog Party Sunday - Show me your Handmades
- Hosted by "By Your Hands"
You are allowed to add 3 links to your shops or your blog.
The rules are simple
:
1.
Follow our blog -
By Your Hands
2
. Handmade items only.
3
. You may list up to 3 items.
4
. Family friendly items only.
The success of this link party depends on the participants so spread the word to your friends, visit the shops, post about it on your blog, in a forum or on your favorite social networking sites.